With the holidays right around the corner, show your Christmas spirit with these holiday reusable replacement balloons. If you are looking for that perfect holiday decoration then look no further. These Helium-Free 18″ balloons are the World's Strongest Balloon! Specially engineered plastic polymers with metallic flake keep them looking shiny, brilliant, and fade-free for months to years!
http://ow.ly/yQK030lcGUJ
These are replacement balloons designed to be used with our duraballoon kits found at the link below
http://ow.ly/QvLS30lcH2y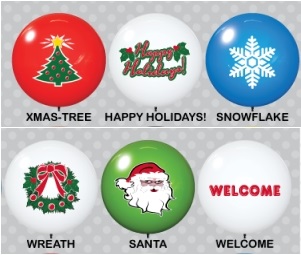 AutoDealerSupplies.com sells reusable balloon kits and it's introducing three new balloon colors. With a huge shortage of helium reusable balloon kits are a must. Create an instant sale right at your dealership! These balloon kits come with one reusable balloon , one adapter clip and a two-piece holder that attaches right to the car window. The giant reusable balloons (20 inches) come in array of 18 different styles. You can display patterned balloons..such as checkered or patriotic or go solid colors . Be as creative as you like or check out our catalogue for ideas.And… New this month we are adding silver, gold and black balloons. With Halloween right around the corner you create an eye catching display with black and orange balloons. If your looking for value in marketing dollars..this product provides it. For only $18.95 you can purchase this balloon kit and use it over and over again. Want to change your look …simply purchase new balloons..use the same hardware and create a whole new display.Visit AutoDealerSupplies.com today for all your marketing ideas.
The newest addition to the AutoDealerSupplies.com website is a new product manufactured by ez lettering.
It is the Reusable Balloon Cluster Kit .
This product delivers five times the impact of a single reusable balloon kit! The use of two Cluster Arms allows this kit to hold five Reusable Balloons at once! Designed for use with any landscaped or grassy area. Each Kit includes one 35″ tall sturdy aluminum pole, two Balloon Cluster Arms, Five 30″ tall fiberglass & reinforced plastic Balloon Holders, Five Balloon Adapter Clips, one 27″ tall steel Ground Spike and five Reusable Balloons!