Jumbo Under Hood Signs Se Habla Español
Estos letreros grandes son ideales para su línea de frente mientras ayudan a evitar las ordenanzas de letreros locales. El material flexible permite que las señales se formen debajo de cualquier capó, mientras que el soporte normal del capó del vehículo se usa para sostener el capó. Consigue el tuyo hoy en http://ow.ly/6Quw50yRmFb
Bandera de ventana con clip de lujo (Se Habla Español) Cantidad 6
Características de lujo … Se adhiere a cualquier ventana del vehículo, hecha de material polivinílico resistente, con un soporte de plástico duradero. Tamaño de la bandera: 11 " de alto x 13 " de ancho. Consigue el tuyo hoy en http://ow.ly/zzps50yRmzd
Burst Banner 3×5 Se Habla Español
Nuevo diseño limpio y vibrante. Hecho de vinilo reforzado resistente a la intemperie con arandelas. Lazos de cuerda de 5 pies incluidos. Impreso en un lado. Consigue el tuyo hoy en http://ow.ly/nrxD50yRm5p
Pegatinas de 15 pulgadas con letrero español
Una versión en español de la Chartreuse fluorescente ORIGINAL, diseño sombreado en 3D, señal adhesiva del parabrisas. ¡Una herramienta de ventas económica pero altamente efectiva para anunciar una característica o punto de venta! Vendido por docena {12 por paquete}. Tamaño: 15 "de largo x 2 3/4" de alto. Consigue el tuyo hoy en http://ow.ly/AxcV50yRlTh
Seat Covers Economy – Disposable
A great way to keep germs off of your car seats during this crisis. Offering complete protection, these protectors install in seconds and conform to bucket or bench type seats. Get yours today at http://ow.ly/dTKp50yRkRP
Seat Covers – .7 Mil – Roll Of 250
A great way to keep germs off of your car seats during this crisis. Great way to show customers that you care about their vehicle. Protects vehicle while being serviced and eliminates the need for costly cleanups. These seat covers minimize the transfer of dirt from one vehicle to another. These economical seat covers are recyclable. Get yours today at http://ow.ly/uXD950yRkAO
Static Cling Return for Service / Oil Change White Labels for Thermal Printer
Auto Dealer Supplies now carries a full line of:  Static Cling Return for Service / Oil Change White Labels for Thermal Printers
These labels are available blank or with a return for service message.
We offer them in static cling or light adhesive.
These will fit the Zebra & Godex Oil Change Sticker Printing System
Order yours today   HERE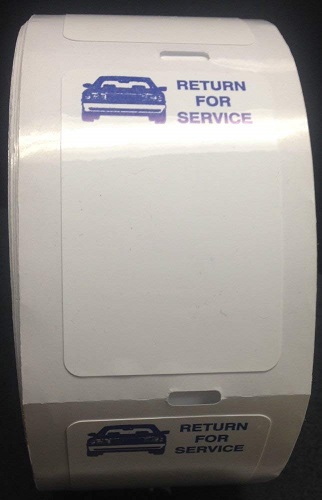 Service Hang Tags Pkg Of 1000 Tags
Use this innovative system to control service department jobs. The top part of this tag hangs from the rear-view mirror. Two consecutively numbered*, perforated, detachable tags at the bottom become the key tag and customer claim check. Now available in 11 colors, get yours today at http://ow.ly/rQEz50yazNw
Versa Tag Key Tags Box Of 250
Versa Tag Key Tags Box Of 250
The unique design allows each key tag to quickly & easily fold into a completely sealed plastic covered tag. You can write on these with a marker, pen or pencil.
These key tags are self laminating You simply fold the key tag to laminate it after you have filled in the make, model, etc. Because these are laminated they wont smudge or tear.
They are available in 9 colors so you can color-code your inventory by new and used, car or truck, month purchased and more. Perfect for any car dealership, get yours today at http://ow.ly/T38P50y4wxt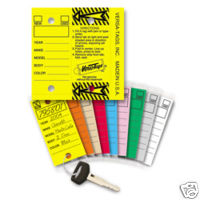 Tax Flags!
With April 15th right around the corner, what better way to advertise you have tax services than with one of our Swooper flags! We have 31 different styles to choose from. Get yours today at http://ow.ly/h5f750xYxS7