Flat Top Flag 5 Piece Flagpole Set #4784-55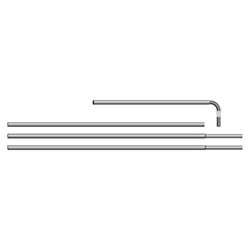 Aluminum Pole Kit for feather flag.
The Premium pole set is made of 100% pure aluminum and has no recycled aluminum unlike competitors.
This pole set has four straight pole pieces with the top piece being an elbow joint to make the upside down "L" shape to hold up the flag.
Recommend for our stock and custom rectangle banner flags.
Easy to assemble and disassemble for easy storage
https://www.autodealersupplies.com/product/Flat-Top-Flag-5-piece-Flagpole-set–4784-55-25279/