Oil Change Stickers | Oil Change Labels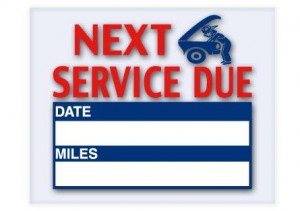 Oil change stickers, sometimes called oil change labels, static cling decals or oil change clings are one of the most used tools by automotive dealers and repair facilities.
There are 3  keys to success in the oil change service business. Number one is providing customers with quality service. Number two is great pricing, And finally number 3 is to get customers to return every 3000 miles for their engine oil change.
 Oil change stickers and labels are  small windshield stickers that help remind the customer of the next car service date. Oil change stickers are typically clear static cling labels. They are easy to apply and remove. They are simple  to read, as well as heat, cold, and fade resistant. Custom oil change labels can include your oil change service logo and company information. Oil change stickers and labels also serve as a marketing and advertising tool for your auto repair business.  They remind your customer to return regularly. 
Ebay lovers click here to order!